Directions to the ADAI Library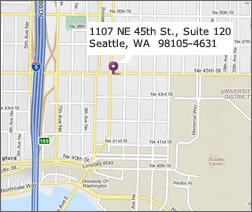 The Alcohol and Drug Abuse Institute is located on the first floor of the University District Building near the University of Washington campus at 1107 NE 45th St., Suite 120, Box 354805; Seattle, Washington, 98105-4631. Both the ADAI Library and the ADAI Clearinghouse are located in the Institute.

Map. (GoogleMaps)

Parking: There are several nearby pay parking lots. The closest is across is a small lot located on the corner of 43rd and 11th. You can also park along 11th Ave. NE or 12th Ave. NE using the green pay stations.

The Library is open from 9am - 5pm, Monday through Friday.
The Clearinghouse is open from 10am - 4pm, Tuesday through Friday.

Contact the ADAI Library by phone: (206) 543-0937; fax: (206) 543-5473; or email: library@adai.uw.edu.