Project MATCH Monograph Series, Volume 2

Motivational Enhancement Therapy Manual:

A Clinical Research Guide for Therapists Treating Individuals With Alcohol Abuse and Dependence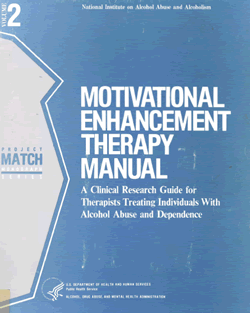 By:
William R. Miller, Ph.D.
Allen Zweben, D.S.W.
Carlo C. DiClemente, Ph.D.
Robert G. Rychtarik, Ph.D.
Project MATCH Monograph Series Editor:
Margaret E. Mattson, Ph.D.
U.S. Department of Health and Human Services
Public Health Service
National Institutes of Health
National Institute on Alcohol Abuse and Alcoholism
5635 Fishers Lane
Bethesda, Maryland 20892–9304
DHHS Publication No. (ADM)92-1894
Printed 1992
Project MATCH is supported by grants under a cooperative agreement funded by the National Institute on Alcohol Abuse and Alcoholism (NIAAA) and implemented by nine clinical research units and a data coordinating center. It was initiated and is administered by the Treatment Research Branch, NIAAA.
Note: This manual is in the public domain and has been scanned by the ADAI Library as a service to researchers and clinicians. NIAAA has not endorsed this web site. To see other monographs in this series, visit our Project MATCH Monograph Series page. To order print copies of the MATCH Monographs, visit the NIAAA web site.
Download entire monograph (pdf, 3.72 MB)

CONTENTS (pdf)
Cover, Acknowledgments, Foreword, Preface, Contents
Practical Strategies (494 KB)
Phase 1: Building Motivation for Change
Phase 2: Strengthening Commitment to Change
Involving a Significant Other
Phase 3: Followthrough Strategies
The Structure of MET Sessions (122 KB)
The Initial Session
Followthrough Sessions
Dealing with Special Problems (74 KB)
Treatment Dissatisfaction
Missed Appointments
Telephone Consultation
Crisis Intervention
Recommended Reading and Additional Resources (108 KB)
Clinical Descriptions
Demonstration Videotapes
References
Appendix A - Assessment Feedback Procedures
Appendix B: Motivational Enhancement Therapy in the Aftercare Setting
Appendix C: Therapist Selection, Training, and Supervision in Project MATCH